My Windows 7 time zone changed automatically without any prior notice.
It's not too long I downgraded my PC from Windows 10 to 7 because of some issues I was tired of.
Only for me to downgrade my PC and notice this time zone change in the new Windows 7 I just installed on the PC.
It is common that your Windows 7 changes time zone automatically, but not to worry; you can change it back to your preferred time zone so that you have the correct time showing on your computer.
Though I'm still not certain why my own changed.
But be it as it may, you will learn how to change time zone in Windows 7 in this page.
You will also notice that if your Windows 7 time zone changes itself, it will also change date and time on your computer.
The time you see displayed on your computer taskbar is controlled by the time zone that you are using on your computer, the same thing applies to the date.
So note that the time zone you use on your computer is relative to your current location.
I was in Africa when my time zone changed, so I had a different time on my computer from the actual time in Africa.
When you date and time changes, you don't need to set the time manually, changing the time zone will have the problem fixed.
There is a list of time zones from which you can choose from, depending on your region/location.
Since I was in Africa as at the time of writing this post, I changed my time zone to (UTC+01:00) West Central Africa.
But initially, I had my time zone on (UTC-08:00) Pacific Time (US & Canada) that was about 3 hours away from the actual time in Africa.
I would say you can use my time zone but my current time zone, (UTC+01:00) West Central Africa may give you a different time and date if you are not in Africa but here is a complete guide to change the time zone in Windows 7 to any location of your choice.
Windows 7 change time zone automatically? Here is how to change the timezone
Click on the time that is displayed on the bottom right of your taskbar
Then click on "change date and time settings…" blue text in the dialog box that will open with a clock
Then tap on the "change time zone…" button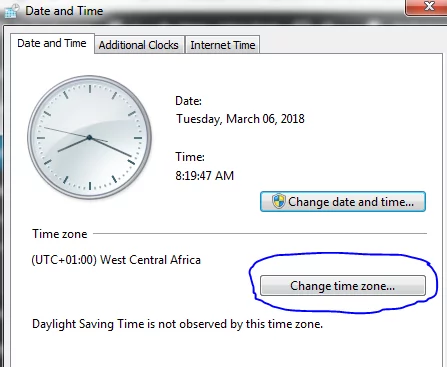 Now you should have a list of available time zones you can choose from
Now choose the time zone that matches your current location, and your date and time will be automatically corrected to match the local time in that location
See my own CURRENT time zone below: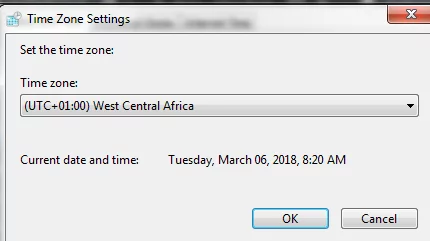 Please note: it is best to use the arrow up or down key on your keyboard to check the list of time zones to see the one with the correct local time and date.
If you wish to click on the drop-down menu list to select the time zone, you must be sure of the actual time zone for your location as you will have all of them listed at the same time.
I'm sure this helps you change your Windows 7 time zone that changed automatically…
Should in case you have a question or contribution regarding this article
Windows 7 change time zone automatically – How to change time zone
, please do not hesitate to leave it in the comment section.
Just don't leave without leaving a comment.
---
Tags: change timezone windows 10, change timezone windows 7 command line, how to change date and time in windows 7 permanently, how to change timezone in windows 7, how to set time zone of india in windows 7, windows 10 change time zone automatically, windows 7 change time zone automatically, windows 7 time zone changes itself